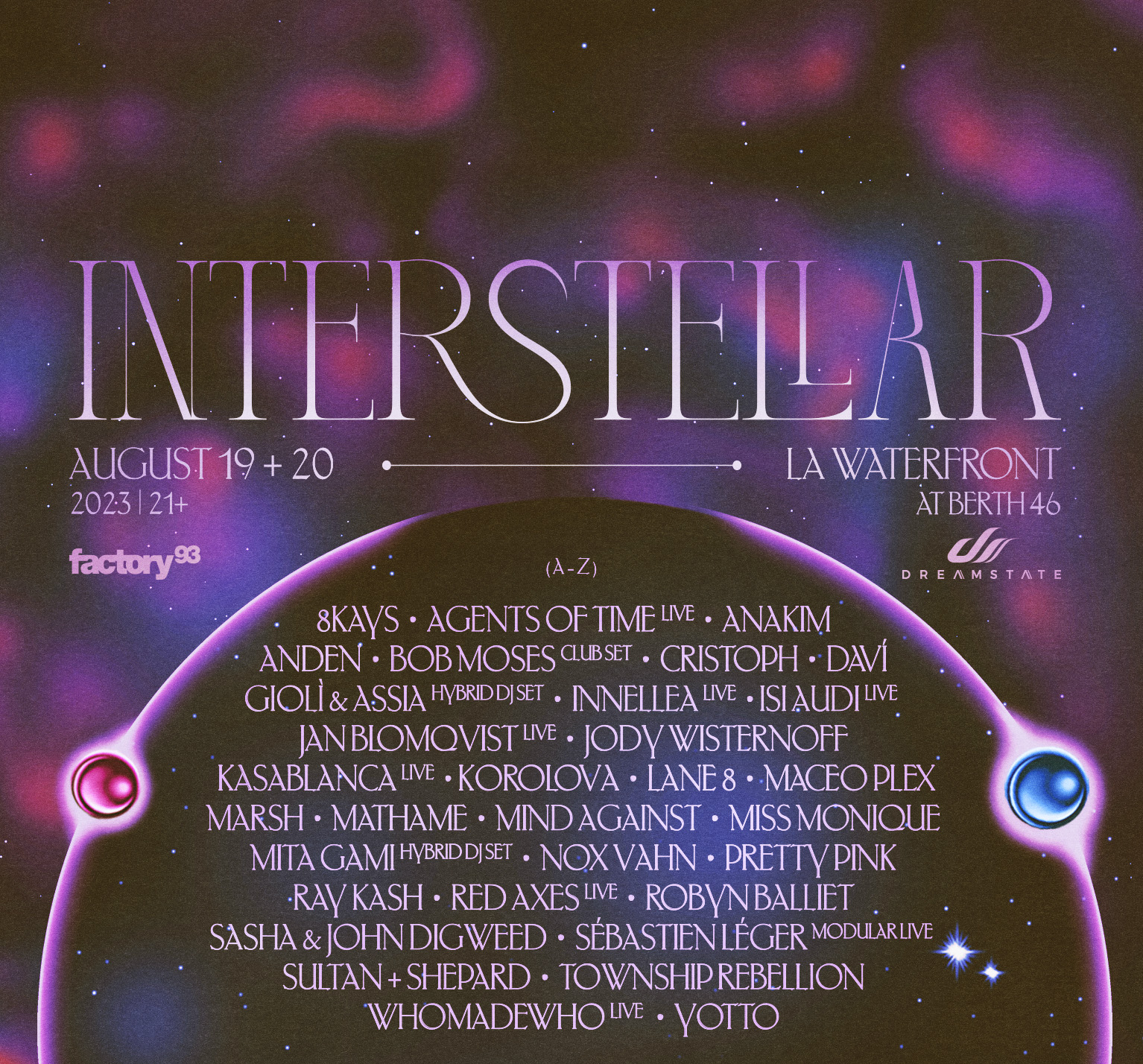 On Sale Now!
LINEUP ANNOUNCED
GA
Deposit: $10
2-Day Starting at $159.99
One (1) festival ticket
Free water refill stations, food & beverage options, bar access
VIP
Deposit: $10
2-Day Starting at $249.99
One (1) festival ticket
Free water refill stations
Exclusive VIP food & beverage options
Specialty cocktails & mocktails
Dedicated VIP viewing areas
Expedited VIP festival entry
VIP Concierge
VIP restrooms
The Interstellar Experience
The infinite universe: a place of limitless possibility, miraculous wonders, and fathomless mystique. We've reached into the vast, deep nothingness of space and have returned to you with a concept for a new celebration, a transcendental communion unlike anything you've encountered before: the Interstellar Experience.
Allow us to guide you through this strange and beautiful infinity, and together we will journey through the unknown. Interstellar represents a spectrum of sound, a world of its own among the pulsing of the stars, where innumerable melodies intertwine with the constellations, and the resounding vibrations of the universe can be felt all around.
On August 19+20, we formally invite you on this voyage and encourage you to unbind yourself from this earthly realm, and return with us to our ancient celestial roots.
Venue
Welcome home, Stargazers. We've transformed the Berth 46 harbor into a cosmic expanse fit for free spirits. Allow your curiosity to roam freely throughout the corners of this otherworldly plane of existence, and free yourself as you dance to the rhythm of the ecstatic melodies floating through the air.
Travel
Through the Interstellar Experience you will find that space is not as far away as it seems. Allow us to transport you to the celestial realm, and choose from a variety of options as your means of entering the void above, such as hotels, parking, or rideshare.
Music
Do you hear that, Stargazer? The harmonious vibrations are calling you home to the place where all become one with the cosmos. Have a listen to what's in store as you journey with us to the heavens.
Event Information
It's normal to have questions about a crossing such as the one we will be guiding you through. We've prepared all the information you will need for this transformative experience, which you can view below.